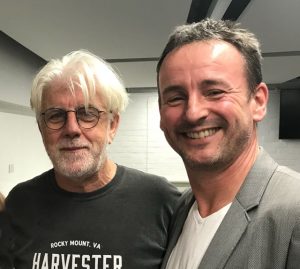 Our guitarist Ian, recently bumped into a well known, even legendary vocalist whilst backstage at the Manchester Apollo. A part time Steely Dan vocalist, he was unfortunately not available to join Steely Don. Would have been cool though.
He said something about 'going insane, laughing at the frozen rain'….
No prizes for identifying who it is.
Caption suggestions are welcome, (please keep 'em clean).